Learning Center: Product Identification
Identify your Andersen® Product
Andersen® windows and patio doors have the Andersen logo etched in the glass. The logo is located on the interior bottom right-hand corner of the window. See example below.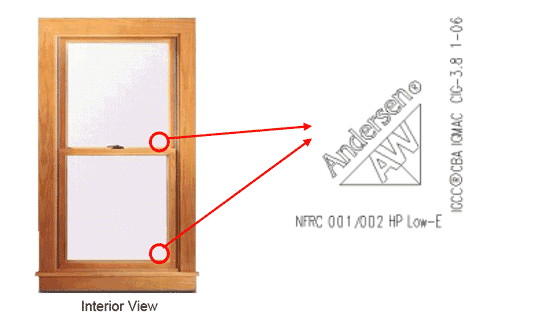 How to find your product's manufacturing date
Your manufacturing date identifies the vintage of your product. The date can be found in the logo etched into the glass.
If you review the image below the vintage is 1-06, first quarter of 2006.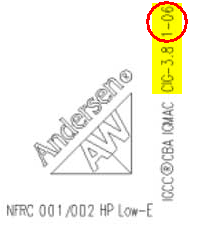 How to identify your type of glass
Use the information below to identify the type of glass in your Andersen window and patio door products. Simply find the glass logo that best matches your logo. Your replacement options will be listed to the right of the logo.
---

 
Example of Tempered Safety glass available in 200 and 400 Series Products.


Used in product where local building codes designate safety glazing is required.

 
Some sash with tempered glass is available online. If you cannot find yours please contact us at 877-835-9090.

If you are unsure if you need tempered glass please contact your local building code official.

---

 
High-Performance Low-E4® Glass Logo for 400 Series Products.

Outstanding overall performance for climates where both heating and cooling costs are a concern.

 
Available replacement glass options:

1. High-Performance Low-E® glass - outstanding overall performance for climates where both heating and cooling costs are a concern..

Not finding your sash, contact us at 877-835-9090 and we can help you order your replacement sash.

---

 
High-Performance Glass used in 200 and 400 Series Products.


Outstanding overall performance and improved energy efficiency.

 
Available replacement glass options:

1. High-Performance Low-E4® glass - outstanding overall performance for climates where both heating and cooling costs are a concern.

2. Low-E glass - outstanding overall performance for climates where both heating and cooling costs are a concern.

Not finding your sash, contact us at 877-835-9090 and we can help you order your replacement sash.

---

 
Double-Pane Clear Insulated Glass.
 
Available replacement glass options:

1. Clear double-pane glass 3/8" thickness for high visibility with basic thermal performance.

Not finding your sash, contact us at 877-835-9090 and we can help you order your replacement sash.

---

 
High-Performance Glass for 200 and 400 Series Products.
 
Available replacement glass options:

1. High-Performance glass for outstanding overall performance for climates where both heating and cooling costs are a concern.

Not finding your sash, contact us at 877-835-9090 and we can help you order your replacement sash.

---

 
High-Performance Low-E SmartSun Glass for 400 Series Products.
 
Available replacement glass options:

1. High-Performance glass for outstanding overall performance for climates where both heating and cooling costs are a concern. Thermal control similar to tinted glass but with the visible light transmittance of clear glass.

Not finding your sash, contact us at 877-835-9090 and we can help you order your replacement sash.

---

 
Low-E SmartSun Glass for 200 Series Products.
 
Available replacement glass options:

1. Thermal control similar to tinted glass but with the visible light transmittance of clear glass.

Not finding your sash, contact us at 877-835-9090 and we can help you order your replacement sash.

---

 
Double-Pane Clear High-Altitude Glass.
 
Available replacement glass options:

1. High-Altitude glass that has capillary breather tubes (very small diameter tubes) placed in the glass to allow equalization of the air space between the glass panes at high elevations.

Not finding your sash, contact us at 877-835-9090 and we can help you order your replacement sash.

---